---
We're taking steps for the care and safety of all as we hold worship services on the Fourth Presbyterian Church campus.
---
Sunday Schedule
Outdoor Services  |  8:00 & 9:30 a.m.
Lower (east) Parking Lot • Face coverings strongly encouraged
Indoor Services | 11:00 a.m. & 6:00 p.m.
The Sanctuary • Face coverings required
11:00 a.m. available via livestream
If you are in a high-risk group for COVID-19 and/or you do not feel comfortable attending at this time, please continue to attend via the livestream at 4thpres.org/livestream.
About Required Reservations
Advance reservations are required for all worship services to protect the health and safety of all. We ask all who attend to observe physical distancing requirements. There is outdoor Children's Church for age 4 through 3rd grade during the 9:30 a.m. service. In-person Nursery and Sunday School are not currently offered due to COVID-19 restrictions, but see current activities for children, youth, and adults.
See reservation options and make your reservation here:
Plan Your Visit
New to Fourth? These maps should help you find your way. Feel free to stop by one of the Welcome Stations or to speak to an Usher. We would love to greet you and see how we can be of service.
Outdoor Services

Sit/Stand Area
For households of ANY SIZE. Each reservation is for a parking space where you, your family, and/or household may stand or sit (BYO chairs). 38 reservations available.
Front Seating Area
For households of 1–2. Each reservation is for two chairs, whether both are used or not. Seating provided by the church, sanitized between services. 38
reservations available.
"Park & Listen" Option

Reserve a space in the perimeter parking spaces if you wish to remain in your car and listen on your car radio at 90.5 FM. Please remain in your car with the engine off. 7 reservations available.
Restrooms

Use lower portico entrance and follow the signs.
Indoor Services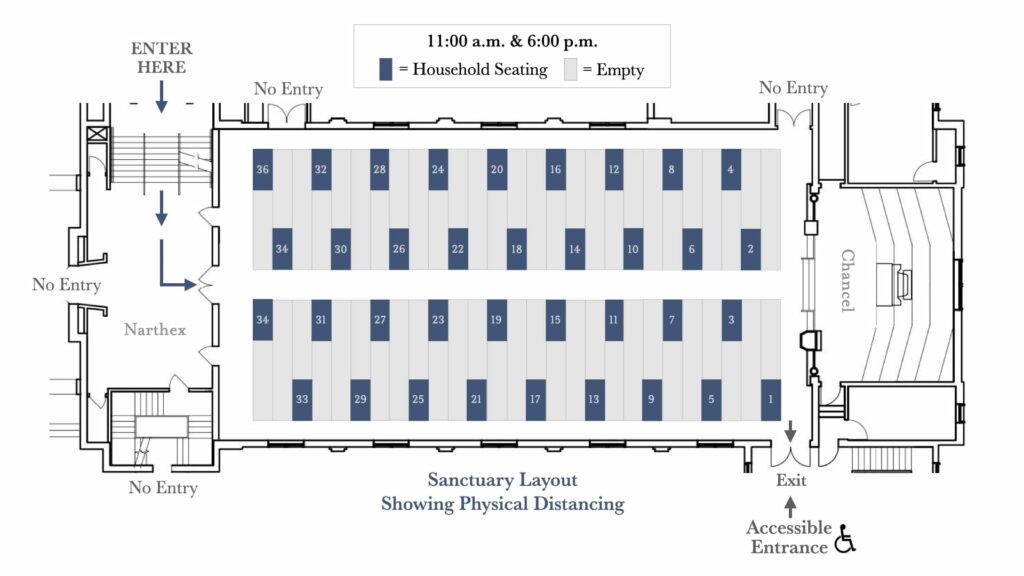 Health & Safety Measures
Please practice physical distancing by maintaining a 6-foot safe distance from attendees outside your party and avoiding contact.

In accordance with CDC guidelines, we strongly encourage wearing a cloth face covering or mask at outdoor services. A face covering is required inside the church building and strongly recommended outside. Children under two and individuals with respiratory issues are not required to wear masks.
We will not be taking people's temperatures on-site.
If you or anyone in your party have had any of the following in the past 7 days, we ask that you not attend and instead take advantage of the

livestream service:

Fever over 100

Cough or sore throat

Shortness of breath

Not feeling well

Contact with anyone confirmed to have COVID-19 (in the past 14 days)
Entry & Exit for Indoor Services
The single point of entry for the 11:00 a.m.  & 6:00 p.m. services will be the Main Office door (River Road side of the church)
Everyone will exit through the door at the right front of the Sanctuary.
Hand sanitizer will be available at the entrance and exit so that everyone can

 "foam in and foam out."

If you require the accessible entrance for indoor worship, first make your reservation, then email Rebecca Sparks-Korossy, rkorossy@4thpres.org, so that we may accommodate you.
Wear a face covering at all times.
Parking
Parking will be available in the Upper Lot on a first-come basis.

If you need handicapped parking, please email Rebecca Sparks-Korossy at rkorossy@4thpres.org.

If you park in the neighborhood, please adhere to neighborhood parking restrictions and take care not to block driveways.

You may also park in the Westwood Shopping Center and walk to and from the church.

Shuttle buses will not be operating.

Please arrive no earlier than 9:00 for the 9:30 service and 10:30 for the 11:00 service. We ask that everyone leave the grounds promptly to help us reset between services.
Church Building Remains Closed
During outdoor services, the building will be closed to everyone except for authorized staff and volunteers (with the exception of restroom access).

The landing and steps in front of the Youth Entrance will serve as the platform for those leading us in outdoor worship.

Please do not attempt to enter the church through these doors.
Restroom Access During Outdoor Services
Enter the building via the Lower Portico entrance, and follow the signs.

The three individual restrooms located near the Children's Welcome Center are designated for use during outdoor services and will be sanitized between services.

Spray sanitizer and paper towels will be available for use in the restrooms between cleanings.

Please do not use other restrooms marked "closed".

As you enter and leave the restrooms, please use the provided hand sanitizer to "foam in and foam out."

Wear a face covering at all times.
Cancellation Due to Weather
In the event of weather that requires cancellation, a decision will be emailed to the Fourth community, and posted to

4thpres.org

, by 7:00 a.m. Sunday.

The livestream service will still be available.
Bulletins & Music
For the outdoor services, hymns will be led from the platform (Youth Entrance) with keyboard or guitar and voice.

For the indoor service, hymns will be led from the organ. Lyrics to the hymns will be in the bulletin.

The church will provide a limited number of bulletins for you to use and take with you, but to minimize contact we encourage you to view your bulletin electronically or print your own.

There will be singing at all services.
See reservation options and make your reservation here: