For the safety of all, we are limiting attendance at our on-campus worship gatherings. Reserve space for your household below.
RESERVATION OPTIONS FOR OUTDOOR WORSHIP
8:00 & 9:30 A.M.  |  LOWER PARKING LOT
We strongly encourage the wearing of face coverings at outdoor services
OPTION 1: Households of 1 or 2
Select this option on the reservation form if

you are

attending alone or with one other person

Each reservation is for

two

2

chairs,

provided by Fourth

, with 7

 

feet

between each pair

of chairs

Chairs will be sanitized between services

Water bottles and personal umbrellas allowed

38 reservations total
OPTION 2: Households of Any Size
Select this option for households of any size.

Each reservation is for 1 parking space (approx. 9' x 18') in the Lower Lot

To maintain

safe distancing

, only every other parking space will be used

Look for the ORANGE CIRCLE on available spaces where your family/group may sit or stand

Bring your own chairs (or towels) if seating is preferred

Water bottles and personal umbrellas allowed

Please, no coolers, food, or tables

38 reservations total
OPTION 3: Park & Listen by Radio
Select this option if you would like to remain in your car and tune in to 90.5 FM

You must remain in your car at all times with the engine off.

 

No exceptions.

Use the Lower Lot entrance opposite Kirkwood Drive

12 reservations total
RESERVATIONS FOR INDOOR WORSHIP
11:00 A.M.  |  SANCTUARY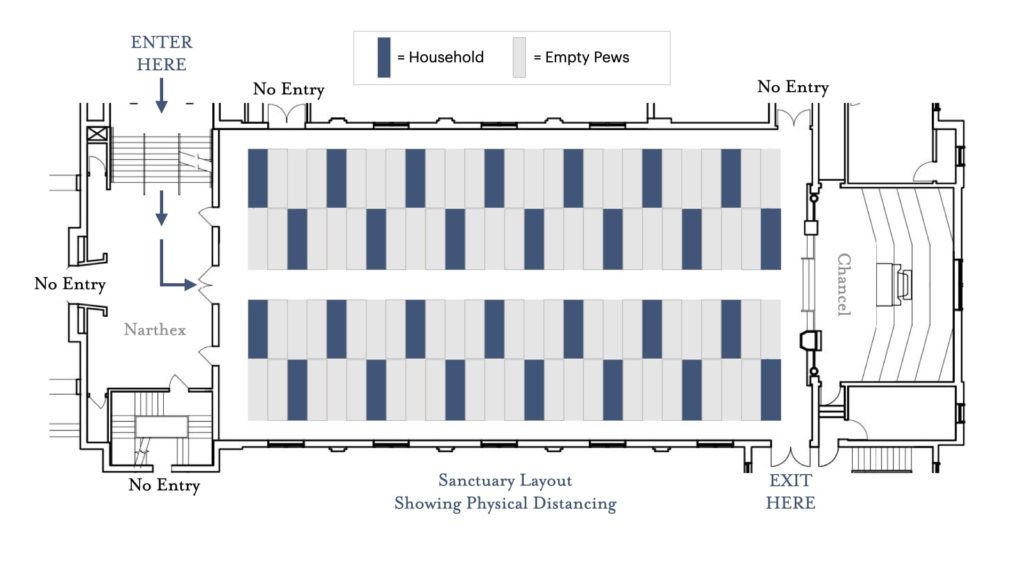 We are sorry, but we are currently unable to offer handicapped access to the 11:00 a.m. service. Note that the service will include singing. Face coverings are required for indoor worship.
Each reservation is for one household
To maintain safe distancing, households will be spaced throughout the main level of the Sanctuary
27 spaces

total
PLEASE RESPOND IN ORDER TO RESERVE A SPACE
For everyone's safety, we are asking those in high risk categories for COVID-19, as well as those with any current symptoms or recent contact, to utilize our live stream service.
Check "Yes" only if you agree that you and your household have been free of the following in the past 7 days.
Fever over 100°
Cough or sore throat
Shortness of breath
Not feeling well
Contact with anyone confirmed to have COVID-19 (in the past 14 days)